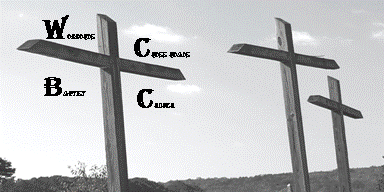 Wofford's Cross Roads Baptist Church exists to know God, Love God, and to serve him in accordance to his will.
"But Jesus beheld them, and said unto them, with men this is impossible; but with God all things are possible." Matthew 19:26
Breaking News: Church leadership has decided to reopen with recommended Covid-19 precautions.




Sunday School starts at 10:0 and Worship Service at 11:00. Zoom will be active for Sunday School and YouTube live for Worship Service.
Reverend Keith Dempsey Bio
Profession of Faith and Baptism at age 11 at Antioch Baptist Church in Oxford, Alabama
Graduate of Oxford High School (1974); Jacksonville State University (1979); and New Orleans Baptist Theological Seminary (1985)
Served in Youth Ministry for 13 years (1975- 1988) in Alabama, Mississippi, and Louisiana churches
Served as Senior Pastor of the Woffords Cross Roads Baptist Church in White, Georgia (1989-1994);
First Baptist Church in Cohutta, Georgia (1998-2002); Taylorsville Baptist Church in Taylorsville, Georgia (2002-2004);
and Euharlee Baptist Church in Cartersville, Georgia (2006-2012)
Served in the field of Education in the Georgia and Arkansas School systems for over 20 years as school counselor, teacher, and administrator.
Served as Battalion Chaplain (Captain) in the United States Army Reserve for 10 years (1991-2000)
Currently retired under the Georgia State Retirement System and works part time in the field of medical transportation
Lives in Taylorsville, Georgia with his wife of 26 years, Amy Black Dempsey
Has two children, Kristen (Dempsey) Seabolt, who teaches elementary school in Georgia, and Kyle Dempsey,
who works alongside his Dad in the medical transportation field