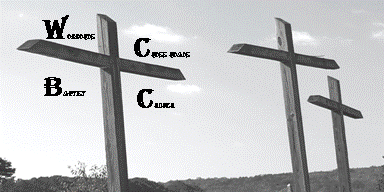 Wofford's Cross Roads Baptist Church exists to know God, Love God, and to serve him in accordance to his will.
"But Jesus beheld them, and said unto them, with men this is impossible; but with God all things are possible." Matthew 19:26
Breaking News: Church leadership has decided to reopen with recommended Covid-19 precautions.




Sunday School starts at 10:0 and Worship Service at 11:00. Zoom will be active for Sunday School and YouTube live for Worship Service.
Woffords Cross Roads is a praying church and has seen many blessing from God in the answers to their prays. Time is taken during the worship service to bring those in need of help to God in prayer. Please join us in prayer for each of those listed. You can submit additional prayer requests and the bottom of the page.
Mary Ann (Alan's Sister)
Darryl Broadaway
Greg Broadaway
Kenneth Broadaway
Cheryl Carr
Glenn Carr
Keith Dempsey
Warren Dorminey
Pat Evans
Derek Hann
Wesley Hann
Josh Huskins
Truedisha Knight
Dean (Family) Lewis
Sara Nell Lipscomb
Emmie Pinkley
Greg Reed's family
Opal Sligh
Jerry Watson
Claudine Wilson